Search Results
Your search for Backwoodsman Water Bottle returned 0 categories and 4 links
Links
Full size pack features an inside
water
bottle
pocket, a front zippered pocket and adjusted padded shoulder straps. Its color is olive/black with the
Backwoodsman
logo in yellow lettering. Our backpack will make an excellent day pack for those roaming treks!
Features a large zippered main compartment with a permanent hard bottom. It also includes two zippered front pockets and a mesh
water
bottle
pocket, padded handle and adjustable shoulder straps. comes in forest green with yellow
Backwoodsman
lettering.
A teardrop-shaped sling backpack, ergonomic ease and bold looks in a casual urban type pack. Crafted to be worn on one shoulder, with a black web adjustable strap. The main compartment secures with a large zipper, and there is a small outer mesh compartment for a
water
bottle
. A super nice day pack for a few items, fishing gear or around town essentials.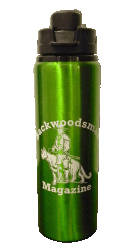 Single wall aluminum
bottle
Threaded flip-top lid with snap tight cap